Harry Potter stars reveal their favourite film lines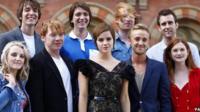 As Harry Potter and the Deathly Hallows: Part 2 gets ready to premiere, some of the cast reveal their favourite lines from the seven movies.
Newsbeat was at the film's UK press conference where stars recalled some moments which have stuck in their memory over the years.
There was no Snape (Alan Rickman) at the press conference and no Harry Potter.
Daniel Radcliffe's been doing a musical on Broadway in New York and is flying back for tonight's [Thursday] London premiere.
Emma Watson (Hermione Granger)
"I'm going to bed before either of you come up with another clever idea to get us killed - or worse, expelled."
Bonnie Wright (Ginny Weasley)
"It was my first ever line. I said, 'Good luck' to Harry.
Rupert Grint (Ron Weasley)
"I say 'bloody' a lot and I always get a thrill from saying it because it's a rude word."
Matthew Lewis (Neville Longbottom)
"Why is it always me?"
Jason Isaacs (Lucius Malfoy)
"My favourite line is actually one of Harry Potter's. I was improvising and said, 'I hope Mr Potter will always be around to save the day.' He looked around and said, 'Don't worry, I will be.' He was 12 years old."
Tom Felton (Draco Malfoy)
"My father will hear about this."
Julie Walters (Mrs Weasley)
"My favourite has got to be, 'Not my daughter, you bitch.'
"I can't believe Mrs Weasley would say that."
Robbie Coltrane (Hagrid)
"It's in Diagon Alley and I say, 'You're Harry Potter. You're the one who got away from You-Know-Who.'"
Michael Gambon (Professor Dumbledore)
"I hardly ever know my lines in the film. But my favourite is when I appear as a ghost on the station platform in the final film. I say, 'Harry...' And I felt like crying."
Harry Potter and the Deathly Hallows: Part 2 is out in cinemas nationwide from 15 July