Illegal downloading: Film workers reveal piracy fears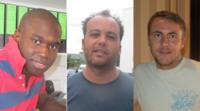 Newsbeat has seen figures suggesting illegal movie downloads have risen by nearly 30% in the last five years - but how is that affecting the industry?
An illegal downloader told us it's too expensive to go to the cinema and that he's not making any money from what he does.
But film bosses say the industry is losing £170m a year because illegal downloading means people aren't going to the cinema, and that people's jobs are at risk as a result.
David Heyman, producer of all eight Harry Potter movies, said he thinks young people feel "an entitlement" to download music and films illegally.
"But what's not presented is the fact they're taking away jobs," he said.
We went to Ealing Studios in west London to meet those who work on the "shop floor".
Direct effect
The reception at Ealing Studios is decorated with posters from some of the movies which have been made here over the past 10 years.
It's a list that includes Shaun Of The Dead, Dorian Gray and both St Trinians films.
At the moment, Gambit, a film starring Cameron Diaz and Colin Firth is in production.
In one warehouse there is a replica of London's Savoy Hotel lobby which stagehand Aaron McDonagh, 32, is helping to build.
"I've been working my way up doing various bits of construction. My dad and granddad were both in the film industry," he said.
Aaron thinks increasing levels of piracy have had a direct effect on his career.
"The money I get is just nowhere near as much as it should be, especially compared with the wages I was getting when I started.
"We're no different to people who work outside the film industry. I've got three girls, a wife and a mortgage which is always a worry in the climate we're in."
That's a view echoed by Noel Clarke, the British director of Adulthood.
"Internet piracy may seem like a faceless thing because people think those studios can afford it.
"The problem is that when people do that, there are carpenters, electricians and caterers who aren't paid what the movie stars are paid but that's still their job."
'Robbing yourself'
TV shows like Downton Abbey are made at Ealing Studios too.
Matt Lawson is 27, and an assistant accountant who's worked on Downton as well as The King's Speech.
"If the royalties made on a film are lower than they should be, it has a knock-on effect on what the company can do next time they produce a feature," he said.
"If they have to make a film on a lower budget, that impacts on people like me.
"Instead of having a team of three in accounts, they'll have a team of two. That's one person without a job."
Charlie Reed, 31, is assistant director on Gambit and has been working with Cameron Diaz and Colin Firth on the film.
"What we do is designed to be seen on a massive 60 foot screen - not on a computer screen or even a big 40 inch TV," he said.
"It's got to be on in the cinema - the sound, the whole effects, watching it with a big audience.
"You're robbing yourself if you watch it on anything smaller.
"That £10 you spend on going to the cinema goes a long way in making the film and keeping people paying their mortgages and making good films."