Insurance for Northern Irish drivers 'more expensive'
There are calls for an investigation into the cost of car insurance for young drivers in Northern Ireland - in particular for young men.
A growing number are finding themselves priced off the road.
There's nothing new about younger drivers being hit by higher car insurance prices.
But the Northern Ireland Consumer Council says premiums for 17 to 22-year-olds here have risen by 64% over the last year, making it more expensive than the rest of the UK.
It wants the Northern Ireland Assembly to investigate.
Young female drivers in Northern Ireland pay around £1,500 to £2,000 but for young guys it's more like £3,000.
New drivers
The Consumer Council says it's an average of £300 more expensive than the rest of the UK.
So what are the reasons for this?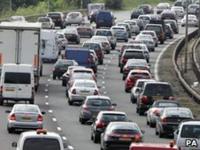 Firstly young drivers are more likely to have accidents - which is the same argument everywhere.
Almost a fifth of all new drivers are involved in a collision within their first six months of driving.
Secondly personal injury compensation claims are considerably higher in Northern Ireland than the rest of the UK.
That's because the awards used to be settled by a jury, rather than a judge in a small claims court, meaning the amounts paid out were higher.
This doesn't happen any more, but prices have stayed up.
More choice?
All of this means insurers are getting put off.
There is a lack of competition and very few companies will cover young drivers in Northern Ireland.
The Association of British Insurers says it has to make commercial sense for them to give someone cover, but it insists the market is starting to grow.
Aodhan O'Donnell of the Northern Ireland Consumer Council said it's gone on long enough:
"We need to look at why the market isn't more open and why there's not more players in it which could offer more choice and competition for consumers.
"We also need to look at what level compensation and personal injury claims are being paid out at. So we need an investigation into the legal process too."
Newsbeat spoke to four young drivers to see what their experiences with insurance had been like.
Lee, 19
"I was quoted about three grand for my car insurance.
"It was too expensive so I had to share insurance with my mum.
"It's a pretty cheap car and it's old so it shouldn't be that expensive. It's really annoying."
Adam, 22
"It's far too dear in Belfast.
"I had an accident four months after I'd passed my test and now it's too expensive for me to get cover so I've given up.
"I don't drive at all."
Emma, 23
"I'm a named driver on my sister's insurance because it's too expensive for me to get on my own.
"A lot of people are selling their cars because they can't afford their insurance."
John, 20
"I passed my test a month ago but i've been put off buying a car because of the insurance.
"I hoped to drive straight away but it's not worth it.
"I'll look again when I'm 23 just for a laugh."