X Factor's Jedward sign deal to make BBC 'travel' show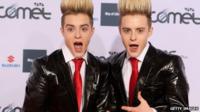 Irish pop singers Jedward say they are filming a new TV show for the BBC.
The duo rose to fame after finishing sixth on The X Factor in 2009.
Since then they have represented Ireland in the Eurovision Song Contest and had number one hits across Europe.
"We just did the pilot and it's got commissioned," they said. "It's going to be so cool. We go to all these places and we take these tourists who don't even know who we are on tours and make stuff up. It's going to be crazy."
The plot may not be well developed but they're certainly not lacking in energy.
The boys have been busy touring Europe with Lipstick, the song they entered Eurovision with, going to number one in the iTunes charts in Germany, Sweden and Austria.
There's a new album on its way in the next few months as well.
"Each track is a like a potential single," they said. "There are no album fillers. Lot's of people doubted us and underestimated us but when they hear the album they're gonna be like, 'Wow, that was crazy.'"