Life as a young Catholic police officer in Northern Ireland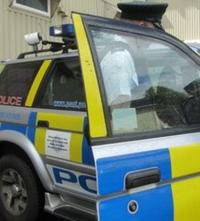 In April 2011 a young police recruit in Northern Ireland was killed by a bomb planted underneath his car.
PC Ronan Kerr from Omagh in County Tyrone had only just finished his training.
The aim of the attack was to scare off other Catholic nationalists from joining up.
Newsbeat was granted rare access to speak to a police officer in County Tyrone about the job and its added dangers.
Damien joined up four years ago. He'd known since he was 15 that he wanted to be a police officer, but he also knew that it wouldn't be an easy job for him to do.
"The decision itself wasn't difficult given that it was something I'd always wanted to do," he says.
"But there were a number of considerations that I had to think about... my family and the security and the risk."
What makes it harder for Damien is that he's Catholic.
'Distancing themselves'
Up to 10 years ago, the police force in Northern Ireland was the Royal Ulster Constabulary or RUC.
Officers were overwhelmingly from the Protestant community and were widely hated and mistrusted by Catholic nationalists.
Damien explains: "The best way I can describe it is if I had 10 close friends, I retained three of those friends - the other seven distanced themselves from me.
"They had some fears in terms of their association with me as a police officer because of the circles which we grew up in and socialised in - it wouldn't have been acceptable."
In 2001, the force changed to the PSNI - the Police Service of Northern Ireland - with the aim of recruiting more Catholics.
That figure's now thought to be at around 30%.
Police targets
Some have viewed that as a success but loyalists claim it unfairly discriminated against Protestants.
Security fears for police officers in Northern Ireland are much greater.
Dissident republicans, mainly from the Catholic community, are opposed to the police and have repeatedly targeted officers in both gun and bomb attacks.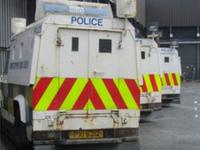 Damien checks under his car on a daily basis.
"My level of security remains at its maximum the whole time so that I can make it as difficult for anyone to attack me or my family as possible," he says.
Police stations are well protected with steel gates, high walls and bullet proof windows.
Many of the standard police cars, used to patrol the streets, are armoured.
Officers never go out alone, patrolling in twos or threes.
They're also armed at all times with hand guns, and have access to other weapons such as full automatic rifles and MP5 sub machine guns.
Damien says, even with an increase in attacks, he's not considered leaving the police:
"Some people will still see that being a Catholic and being in the police service makes you some form of a traitor," he adds.
"It's certainly not going to change my view of what I do.
"Every person that phones, every person that needs us, needs our help or advice, that's who I work for and that's who I will continue to work for regardless of anything that happens in Northern Ireland."