Angry Birds hires movie producer for 'future films'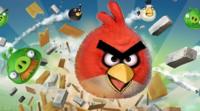 Rovio, the developers of the Angry Birds game, have hired a Hollywood producer to work on "future Angry Birds films".
The company appointed David Maisel, executive producer of Thor and the Iron Man series, as a special adviser.
The first Angry Birds game was launched in December 2009 and is one of the most successful smartphone apps of all time.
The series has now had more than 250 million combined downloads across all platforms.
"David was instrumental in rebooting Marvel Studios and turning it into a blockbuster-producing powerhouse," said Mikael Hed, CEO of Rovio.
"We welcome his experience and vision as we continue broadening our entertainment production scope at Rovio," he added.
The Angry Birds game lets players control a variety of bad-tempered birds, all with different skills, who try to rescue their eggs from evil pigs.
Using a slingshot the birds are catapulted at different structures the pigs are hiding in.
Rovio also recently launched Angry Birds on the web with Google Chrome, and announced plans to publish a book.
The game also had a movie tie-in with the animated film Rio, which was released earlier this year.