Kelly Rowland reveals Here I Am album track list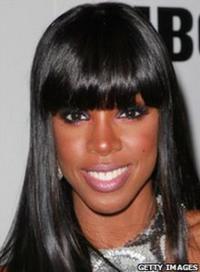 X Factor judge and former Destiny's Child singer Kelly Rowland has revealed details of her third album, Here I Am.
The album will feature Motivation, her collaboration with US rapper Lil Wayne, which is currently number one in the US hip hop/R&B charts.
She will also collaborate with Californian rapper Big Sean and Texan MC Lil Playy.
She has teamed up with producer Rico Love, who has written tracks for Nelly, Beyonce, Usher and Chris Brown.
The album is released in the US on 26 July, with a UK release date still to be confirmed.
The track list is as follows:
1. I'm Dat Chick
2. Work It Man feat. Lil Playy
3. Motivation feat. Lil Wayne
4. Lay It on Me" feat. Big Sean
5. Feelin' Me Right Now
6. Turn It Up
7. All of the Night feat. Rico Love
8. Keep It Between Us
9. Commander
10. Down for Whatever
Deluxe Edition
11. Heaven & Earth
12. Each Other
13. Motivation (Rebel Rock Remix) feat. Lil Wayne
14. Commander (Urban Remix) feat. Nelly Standard Edition