Jessie J has operation on broken foot after stage fall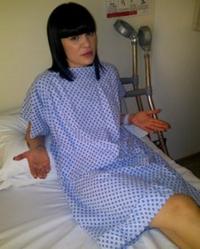 Jessie J has had an operation on her broken foot five days after performing at Glastonbury.
The 23-year-old singer tweeted to say she wasn't looking forward to the surgery.
She wrote: "Okay so I'm signing out for today. Going in for my surgery now. Super scared! Tweet you on the other side."
The star found out she had a broken foot last Thursday, two weeks after falling off a stage platform in London.
She was originally told that she had ripped a ligament.
Jessie J appeared on The Other Stage at Glastonbury last Saturday afternoon and performed most of her set sitting on a gold throne.
On Twitter, she added: "Keep making nervous jokes with the doctor and he keeps looking at me blankly. Which is making me laugh even more.... #AWKWARD."
The singer is playing a number of summer UK festivals including T4 on the Beach, iTunes and V before starting her own headline tour in October.
She's then supporting Katy Perry on her California Dreams US tour in November.
The singer went to number one earlier this year with her single Price Tag featuring American rapper B.o.B and also topped the BBC's Sound of 2011.