Lindsay Lohan released from house arrest over theft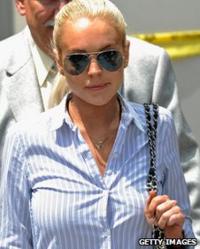 Lindsay Lohan has been released from house arrest after spending 35 days at her apartment for stealing a necklace.
The star's electronic ankle bracelet was taken off yesterday morning, according to a spokesman for Los Angeles sheriff's department.
She was sentenced to 120 days in jail after walking out of a jewellery shop wearing a $2,500 (£1,557) necklace.
Lohan, 24, qualified for house arrest under a program to cut the number of people held in jails across LA.
The star of Mean Girls and Ugly Betty pleaded no contest to the theft last month.
She is also doing 300 hours of community work at a women's shelter and 120 hours of community service at the coroner's office in Los Angeles.
The actress also has to complete an anti-shoplifting class and will remain on probation for the next three years.
The star was already on probation for a 2007 drink-drive case last January when a boutique store in the Venice area of Los Angeles told police that she'd taken a necklace without permission.
The theft happened three weeks after Lohan was released from rehab.
She had been sent there for three months of treatment after failing a separate drug screening for cocaine and amphetamines.
Lohan also tested positive for alcohol shortly after the theft was reported.
The star is due to start filming a movie about New York crime boss John Gotti later this year with co-stars John Travolta and Al Pacino.