Young worried about return of guns to Belfast streets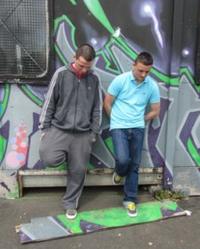 Teenagers and youth workers in a part of east Belfast have told Newsbeat they're worried about the return of guns.
Three people were shot in violent battles there last week, one of them a press photographer.
James and Kyle live nearby and use a youth club based in a small portable building in a loyalist area facing the Lower Newtownards Road.
That's the road where hundreds of people clashed a week ago, pelting each other with stones, bricks, petrol and paint bombs.
The outbreak of violence shocked many in Northern Ireland because more recent years have seen a return to relative calm after years of troubles.
But there's something else that's got people worried - the use of guns.
James, 17, said: "It's scary, it brings you back to when you were younger, which I didn't really know much about because I was a child.
"You hear the stories and they are scary. People being murdered, some in groups of five or six. It does scare you."
'Adrenaline'
James admits, if there was any trouble, he used to be right in the middle of it.
He says he's now taken a bit more of a back seat.
A lot of that is down to a cross-community project run at his youth club.
Kyle, also 17, said: "It wasn't anger, it was more boredom because there was nothing to do.
"The rush you get and the adrenaline from the chase and throwing a few bricks is more than you get from sitting in a youth club."
Walk past the boarded up windows and broken glass and just down the road opposite you are in the nationalist Short Strand area.
It is an estate surrounded almost entirely by loyalist streets.
The only things dividing them are "peace walls".
They are high, artificial barriers which physically separate Catholic and Protestant homes.
Violence
Doyle Youth Club in Short Strand is home to another big group of teenagers.
It is the leaders of these two youth clubs, from different sides of the divide, who've decided to work together.
Paul is one of the youth workers. "It's a challenge to us all," he said.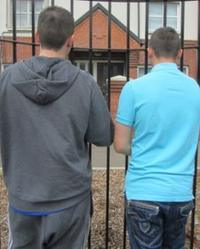 "If we want to build a better future for us all in Belfast, then we have to put those dark days behind us and move on together."
The idea is to get teenagers from each side to speak to each other.
It's done through meetings, activities and weekends away.
Some of those involved would say they're now friends.
But last week's violence was a setback.
Police have said it was orchestrated by the UVF, a loyalist paramilitary group.
It's an escalation in violence many fear could be a sign of things to come.
Alfie is the other youth leader and said: "It was freaky and scary. My youth club emptied.
"I thought we had moved on, I thought the guns had left for good.
"I'm not getting into the blame game here, there were shots fired on both sides.
"But I'm worried the young people I work with could be the future gunmen in years to come."