Missy Elliott has incurable condition Graves disease
24 June 2011

From the section

Music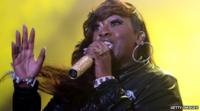 US rapper Missy Elliott says she has Graves disease, a thyroid problem that made her hair fall out and shut down her nervous system.
The 39-year-old said the condition was rarely life threatening and could be managed through medication.
"My nervous system shut down," Missy Elliott said in an episode of VH1 Behind the Music, a US cable TV show.
"Your skin is dry, your hair falls out, you wake up, your eyes feel like they've got rocks in them."
Gone public
Graves Disease cannot be cured but is handled with treatment, according to US medical organisation the Mayo Clinic.
The four time Grammy winner was diagnosed with the illness in 2008 but kept her condition private.
Patients with Graves disease have a thyroid gland that overproduces the hormone thyroxine, which increases the metabolic rate and can affect a person's appearance and energy level.
She's known for tracks Get Ur Freak on and Work It released in the 1990s but has not released an album since 2005's The Cookbook.
Her latest project is an album she's working on with rapper and producer Timbaland titled Block Party.