Pink rants at paparazzi intrusion over shots of baby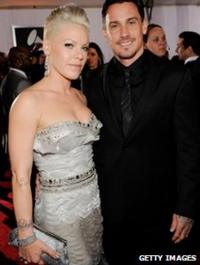 Pink is to release official photos of her newborn baby and give the money to charity to try to stop paparazzi photographers "stalking" her.
The US singer gave birth to her first child, Willow, at the beginning of June with husband Carey Hart.
In a statement she refers to "aggressive measures the paparazzi are willing to go to in order to secure that first shot of our daughter".
Pink says her daughter "deserves the right to privacy and be protected".
The 31-year-old singer, whose hits include Raise Your Glass, Who Knew and So What, married Carey Hart in 2006.
They split up in 2008 before getting back together early last year.
The couple announced they were expecting a baby in November.
'Intrusive paparazzi'
Pink's statement continued: "We recognize that celebrity has its upsides and downsides and do our best to manage just being people without hiring stylists and bodyguards before one of us goes to the store to buy some milk.
"But it's one thing to harass and stalk us, the adults, the celebrity that signed up for this life, but children should be protected and safe.
"There should be a clear distinction between us."
In the online rant, Pink also criticises US laws surrounding the privacy of children.
"In every other country that I recall, children's faces are blurred out in magazine photos," she said.
"Why is USA the only country that continues to financially incentivize intrusive paparazzi behaviour to capitalize on photos of babies, infants and children?
"Why is this acceptable to any of us? Why is this even legal?"
Pink finished her open statement by saying she just wanted the press to leave her and her family alone.
"We don't want you to take our little girl's picture. We don't want you to one day follow our little girl home from school.
"We don't want our little girl's picture in a magazine or on a blog.
"If you take or publish her picture, it is against our wishes and without our consent as parents, as people."