U2 admit headlining Glastonbury will be a 'challenge'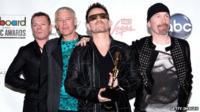 U2 have admitted that headlining the Friday night at this year's Glastonbury will be a challenge for them.
The band were forced to pull out of topping last year's festival after frontman Bono had to have emergency surgery on his back.
Drummer Larry Mullen, Jr. told Radio 1 DJ Zane Lowe that everyone also wants to hear different songs.
"It's been exciting but there's been pressure. I'll be happy when it's over, in a positive way," he said.
Bono admitted to being "heartbroken" after U2 were forced to cancel last year's appearance at Somerset's Worthy Farm.
The band also had to pull out of a 16-date North American tour.
Larry Mullen, Jr. admits it's been hard preparing all over again.
"There was a bit of disappointment," he said. "Then to have to ramp up again this year, it's taken a lot of time and energy just as far as figuring out what the set list is going to be, what we're going to do and how we're going to do it.
"Without all the bells and whistles it's four guys back in the room playing through different set lists."
'Different opinion'
U2 released their 12th studio album, No Line on the Horizon, in 2009 and have had seven number one singles in the UK.
Larry Mullen, Jr. says they're still not sure about what tracks to play at Glastonbury.
"We've gone through a number of combinations," he admitted. "Everybody seems to have a slightly different opinion, which is not good news.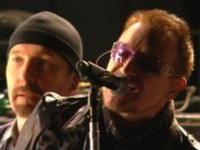 "Everybody has a view on how it should go. There's the Where The Streets Have No Names camp and then there's the more subtle approach, the Achtung Baby dynamic approach where you build slowly.
"Then there are those who think we should open with 40 (from 1983 album War). It goes on. There are an awful lot of opinions."
U2 are still performing around the world as part of their 360° tour and are flying in from the North American leg before their appearance at Glastonbury.
Larry Mullen, Jr. says the UK show will be very different from their own gigs.
He said: "It's not the 360° show, we're out of our comfort zone and that's important for us.
"Despite everything we have something to prove and it's about the songs. That's what Glastonbury is about overall.
"It's about a band being able to get up and play the music and there aren't bells and whistles necessarily. That's a challenge for us and we've got something to prove."
U2's performance will be shown live in three parts on BBC Two from 9.45pm on Friday 24 June, on BBC Four from 10.30pm and then on BBC Two again from 11.05pm.