Marine killed in Afghanistan left mates Las Vegas fund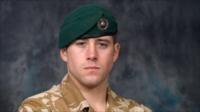 A Royal Marine who was killed in Afghanistan set aside part of his insurance money to fund a trip to Las Vegas for his friends.
David Hart, from Poppleton in York, was 23 when he was killed by a bomb in Helmand Province last year.
He left a letter telling 32 of his friends he wanted them to spend £100,000 of his life insurance on the holiday.
He also left part of the money to several charities.
Newsbeat has been speaking to two of his friends, James Barrett and Craig Theaker, who'll both be taking the trip.
'No regrets'
"I can speak for anyone who ever met Dave - what a true legend he is. He had all friends and no enemies. He made everyone's day a lot brighter," Craig said.
The pair went on to describe meeting up soon after David's death, to read the letter he had written for them.
"He left a letter in the hands of our friend Andy," Craig explained.
"Basically it just said stuff like, stories of the life we'd had with him, and he explained about this trip in it.
"He told us he had no regrets in his life, he'd done everything he wanted to do up to then.
Craig and James explained the Vegas trip had been a dream of David's, who served with 40 Commando based in Somerset.
"He wanted to go to Vegas and this was a perfect opportunity to put this dream into our hands and live it for him," Craig explained.