Lily Allen changes surname on Twitter to match husband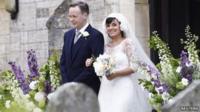 Lily Allen has changed her name on Twitter to Lily Cooper.
The 26-year-old singer married Sam Cooper in Gloucestershire at the weekend and has switched her profile from Lily Rose Allen to Mrs LR Cooper.
The couple tied the knot at St James the Great Church in Cranham, near Stroud, on Saturday.
She tweeted: "I had the most amazing wedding, thank you to everyone who went to such extraordinary efforts to make it that way."
It was also revealed on her wedding day that the singer was pregnant after she was photographed with a visible bump under her lace wedding dress.
The singer suffered a second miscarriage, six months into her pregnancy last year.
She also suffered a miscarriage in 2008 when she was with Ed Simons from the Chemical Brothers.
Allen met Sam Cooper at the Glastonbury Festival in 2009 and the couple are thought to be attending this year's event with friends and family, staying in luxury tepees.
Glastonbury organiser Michael Eavis said: "I'll set her up a special tent. She'll have the best treatment."