Drunk Take That fans flood A&E after Manchester gigs
15 June 2011

From the section

Music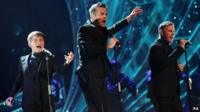 Hospital staff in Manchester say they have been inundated with drunk women from recent Take That concerts.
Staff say the level of drinking led to a spike in numbers attending the A&E department at Manchester Royal Infirmary (MRI).
Thousands of people attended the band's shows at the City of Manchester stadium, which ended on Sunday.
Stewards say many female fans in the standing areas arrived hours early to get a position near the stage.
They say by the time they had waited for Take That to begin their gig many had had too much to drink.
Drink responsibly
Figures released by the MRI comparing A&E admissions on the Take That gig dates to last year show an increase on six of the eight concert dates, with 87 more people admitted overall.
Pubs around the ground complied with a police request not to sell alcohol to concert-goers.
But alcohol, including £18 full size plastic bottles of wine, were on sale inside the ground during the concerts.
Greater Manchester Police estimate that nearly half a million people watched the group over the eight nights in Manchester.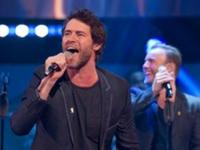 Officers made 24 arrests over the course of the concerts and say 21 crime reports have been submitted for various offences including public order and theft.
The ambulance service dealt with around 606 incidents.
Police and hospital bosses had asked fans to drink responsibly.
Take That continue their record-breaking UK tour at Cardiff's Millennium Stadium tonight.
They're also still to visit Glasgow and Birmingham finishing with an eight-date run at Wembley Stadium starting on 30 June.
The stage production cost around £15 million to put together with the robot used in the shows standing 30 metres (100ft) high when fully erect.
During one of the Manchester shows, singers Mark Owen and Howard Donald were both trapped on stage.
The pair were meant to be lowered to the stage on the palms of the group's giant robot man, Om, but the mechanics failed.
It meant they were stuck singing Love Love three metres (10ft) above the rest of the band.
Progress Live is the biggest ever UK tour and is the first time the original five members of Take That have toured together since 1995.
They'll play to nearly two million fans across Europe this summer.