Thousands of Facebook users stop using accounts in UK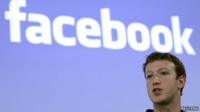 One hundred thousand people stopped using Facebook in the UK last month, according to new figures.
In America the numbers were far higher, with six million people not using or deactivating their accounts.
Company executives announced earlier this year that around half the UK population, around 30 million people, were now on Facebook.
Facebook is aiming to reach one billion users worldwide with most new traffic coming from developing countries.
The figures, from Inside Facebook, show that while there's so-called "Facebook fatigue" in countries like the US, the UK, Norway, Canada and Russia, the site is growing in Mexico, Brazil, India and Indonesia.
Facebook is now close to 700 million users, having reached 687 million by the start of June.
'Pleased with growth'
Growth is slowing in countries that adopted Facebook early and it's thought the social network may have reached saturation points in the US, Canada and the UK with more than half of the populations of those countries now members of the site.
Inside Facebook, which tracks the site's traffic and usage worldwide, released the figures after analysing Facebook's advertising tools.
In a statement Facebook said: "From time to time, we see stories about Facebook losing users in some regions.
"Some of these reports use data extracted from our advertising tool, which provides broad estimates on the reach of Facebook ads and isn't designed to be a source for tracking the overall growth of Facebook.
"We are very pleased with our growth and with the way people are engaged with Facebook.
"More than 50% of our active users log on to Facebook in any given day."
Top 10 countries using Facebook:
United States - 687.1 million users in June 2011
Indonesia - 149.4
United Kingdom - 37.9
Turkey - 29.5
India - 28.9
Mexico - 26.6
Philippines - 25.6
France - 24.5
Italy - 22.5
Brazil - 19.6