GPs 'should target men through Facebook and phone apps'
13 June 2011

From the section

Health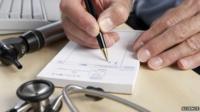 GPs and campaigners are urging the government to use technology to target young men with health warnings.
The Men's Health Forum believes too many are ignoring potentially dangerous symptoms because they're embarrassed.
The organisation is also worried many men self-diagnose or order drugs that may not be right for them.
The Department of Health says a new health campaign aimed at young people would be starting this year and would use smartphone apps and Facebook.
Carl, who didn't want to give Newsbeat his real name, is 24.
He says he didn't go to the doctor when he noticed something was wrong and still hasn't been to a GP's surgery.
"About three months ago I noticed I'd started passing blood and it got progressively worse," he said.
"But I've never actually been to a doctor because I'm too embarrassed.
"I don't want to go to a doctor and start talking about that stuff because I'd be worried I was wasting their time."
If you're a man, check your symptoms at NHS Direct
Embarrassed
A spokesperson for the Department of Health said there were no specific plans to just focus on men when their new health campaign launched later this year.
Carl thinks blokes need to be told where to look for information because they don't go to the doctors as much.
"It's not just me," he said. "You don't want to see your doctor but you don't know where to look for the information.
"They don't need to necessarily create something but they need to better promote what already exists so people can sort themselves out."
Doctor Ian Banks is president of the Men's Health Forum.
He says men generally wait too long to see a doctor and technology needs to be used to target young people.
He said: "We want men to go and see the doctor, not more often, but sooner when they find something wrong.
"That's the key thing to do and think of how many men are looking at apps when they're watching telly.
"We love playing with these gadgets, so why don't we use it to our own advantage and get health messages built into these gadgets?"
Carl agrees that using technology to send out health information could be the way forward.
He said: "I'm sure if you put a load of health care issues in video games guys would pick up on it but the logistics of that are a nightmare.
"It's just simple things like apps you can check anonymously. A lot of it is the anonymity.
"With me, the more and more it happened the more I thought, 'This is probably something I should get checked.'
"But I left it and it didn't got worse, so I figured it would just solve itself and I wouldn't need to worry anyone about it."