Inbetweeners' James Buckley says girlfriend is pregnant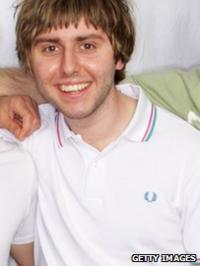 Inbetweeners star James Buckley has announced that his girlfriend is pregnant.
The comedy actor has been dating model Clair Meek for 10 months.
He said: "Clair and I wanted to let everyone know we are having a baby. Chuffed to say it's going brilliantly.
"All very exciting with the film out in August and baby out soon after that. Can't quite believe my luck. Didn't think I had it in me."
A big screen spin-off of the E4 show is due for release in the UK on 19 August.
It sees characters Will (Simon Bird), Neil (Blake Harrison), Simon (Joe Thomas) and Jay (James Buckley) head to Crete for a lads' holiday and was filmed earlier in the year in the Spanish resort of Magaluf.
Meek said Buckley was nothing like his on-screen character Jay and revealed that the couple enjoyed a relatively un-showbiz life.
She said: "James could not be more different to Jay. He's quite shy and quiet and very thoughtful.
"James takes care of me. We're not party animals. We're just normal and prefer a night in watching TV."