X Factor star Rebecca Ferguson says 'album is credible'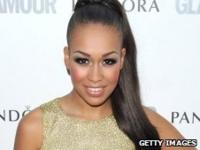 X Factor runner-up Rebecca Ferguson says her debut album is nearly finished and will be released in November.
The 24-year-old from Liverpool was runner-up to winner Matt Cardle on last year's show but signed a record deal with Simon Cowell's labels Syco and Epic.
Speaking to Newsbeat at this year's Glamour Awards, she said the untitled LP will feature all her own material.
"It's very me, I'm doing my own writing and really enjoying it," she said.
"It's going to be a soul album and by that I mean songs with powerful words.
"But there will be a mixture. I'm going to have some really dancey numbers on there."
She says she hopes it will make a real impression on people: "I want to make sure it's really good, really credible and people will listen to in 10 year's time. That's my main aim. I just want to take my time on it."
She also revealed that she hasn't been in contact with her mentor Cheryl Cole since the end of the show.
"Cheryl and I don't speak any more," she revealed. "I just think we're all really busy, we've got that much on at the minute."