Rihanna defends shooting in music video for Man Down
3 June 2011

From the section

Music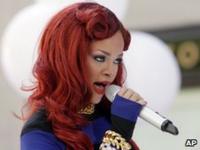 Rihanna is defending her latest music video, Man Down, which shows a man being shot in the head.
The Parents Television Council in America has called the scenes "disturbing" and have asked TV channel BET to stop showing it.
But the singer has said the video was "art with a message".
She said: "We just wanted to hone in on a very serious matter that people are afraid to address, especially if you've been victimised in this scenario."
Man Down is the latest single off the singer's fifth studio album, Loud.
BET says it will carry on playing the video because "a comprehensive set of standards and guidelines are applied to all of our content".
They added that Rihanna's video "complied with these guidelines and was approved for air".
MTV in America hasn't played the video yet.
'Touchy subject'
The 23-year-old says she didn't intend to make a controversial music video and was hoping to show off her acting skills.
The singer also defended the video in a series of tweets.
The first said: "I'm a 23 year old rockstar with NO KIDS! What's up with everybody wantin me to be a parent? I'm just a girl, I can only be your/our voice!
"Cuz we all know how difficult/embarrassing it is to communicate touchy subject matters to anyone especially our parents!
"And this is why! Cuz we turn the other cheek! U can't hide your kids from society, or they'll never learn how to adapt! This is the REAL WORLD!"
Rihanna, who was attacked by ex-boyfriend Chris Brown in February 2009 before the US Grammy music awards, says she doesn't agree with violence.
"I've been abused in the past and you don't see me running around killing people in my spare time," she said on BET.
Chris Brown pleaded guilty to assaulting Rihanna and has been sentenced to five years' probation.
Earlier this year Rihanna was forced to change the title of her single S&M to Come On after pressure from Radio 1.