Templecloud singer flattered by Paloma Faith comparison
3 June 2011

From the section

Music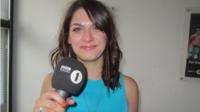 The singer who features in the latest KFC advert says it's a compliment to be compared to Paloma Faith.
Hannah Symons, 23, fronts Templecloud, whose One Big Family single was chosen by the fast food chain for its current campaign and has become a top 40 hit.
But following the advert's debut, people online and across Twitter have mistaken her voice for Paloma Faith.
"I'm not Paloma Faith, no," says Symons. "But bless her, she's had quite a lot of questions about that."
"Yesterday, a good friend of mine said, 'Hannah. Is it you? All over the internet it says it's Paloma Faith' and I said, 'Why would I lie to you?'
"I'm glad we've cleared that one up. I'm definitely not Paloma Faith. She's a phenomenal talent and to be compared to people like her is a compliment in itself."
One Big Family is a cover of a 1997 Embrace single.
It's already been Scott Mills' record of the week on Radio 1 and is number 24 in the official singles chart.
'Something special'
Hannah, who comes from Bath, says she had high hopes for the song from early on.
"We heard the KFC brief and we just knew this was going to be huge," she says.
"The way the guys had composed the song with my voice, we knew something was special about it."
The singer's also been hard at work on other tunes and is determined not to become a one-hit wonder.
"Since this all happened we've been power to the pedal," she says. "Just trying to write as much as we can.
"We've still got material from before. I'm in the studio as much as I can be.
"If it doesn't work out it'll be a shame but we know we've got to put in 110%."
The hype around the band now means they've hired a management company and experience surreal moments every day.
"We walked into one room and Girls Aloud were there - Nicola and Kimberley," says Hannah.
"We didn't really speak very much but they were so polite and I was stood there completely starstruck and couldn't believe it was happening."