Hard-Fi say they 'got a kicking' for their second album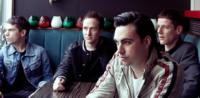 Hard-Fi have said they felt like they "got a kicking" from critics and reviewers around their second album Once Upon A Time In The West.
The Staines band released the album in 2007 but are returning now after a four-year break.
Lead singer Richard Archer admitted that he took some of the criticism directed at the band to heart.
"You let all that stuff get to you a bit because you're tired and you're in it. Everyone gets it," said Archer.
'Hard' album
Later this month the indie rock foursome release new single Good For Nothing - their third album Killers Sounds will follow at the end of the summer.
But Archer says he is still fond of the band's second album despite its mixed reception.
"You don't know how to make a second album until you do it," he said.
"You almost feel like you should be doing certain things and doing things a certain way. You should just be enjoying making music.
"The second album, despite all that, I really love it and I think it's great but it was hard.
"We'd just come off really busy touring, lots of personal things had happened and you go straight into making that record - it comes out and it feels a bit like it's open season. You know, lets give Hard-Fi a kicking. It probably isn't really."
At the time the band attracted criticism for the album's artwork - which featured the words 'No cover art' on a plain yellow background.
"We got a lot of stick over the artwork and the main reason for that was that Peter Saville - the best graphic designer in the country - said it was good and that put a lot of peoples noses out of joint," said the singer.
"But that's history now - you let all that stuff get to you a bit because you're tired and you're in it. Everyone gets it."
Long break
The band say that after their extended break it now feels like a new phase for the group.
"You'd like to be able to say that we all became rainforest explorers and one of us climbed Everest - in reality we did take a bit of time out," said drummer Steve Kemp.
During the break they were working on music, taking some time out and travelling around the southern United States visiting some of their favourite record labels.
"It was taking a bit of time to enjoy what we'd done," adds Archer.
Indeed, the success of singles like Living For The Weekend and Cash Machine from their debut album Stars Of CCTV made them one of the UK's biggest indie guitar bands at the time.
For their new album they wanted to do something different though.
Part of the delay was down to waiting for producers like Stuart Price and Greg Kurstin to become available.
"If you want to work with them you've just got to get in line. It was worth the wait," says Archer.
But now with summer appearances at festivals like Glastonbury confirmed the band hope to be part of a wave of British guitar bands like Arctic Monkeys and Kaiser Chiefs returning with new material.
"Let's be totally up front about it - the last two or three years if you're a band its been pretty hard work," said the singer.
"Bands were all over the place for a bit and people get a little bit fed up with it and Lady Gaga has taken over.
"It was like you know what, 'Let them get on with it' - we'll take our time, get our thing together and come back like a breath of fresh air."
Hard-Fi's single Good For Nothing is released on 19 June.