Muse singer serenades unborn baby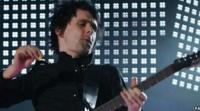 Muse's Matt Bellamy says he sings to his unborn baby with Kate Hudson, to make it kick in the womb.
The band's frontman is expecting his first child with the actress after getting engaged in April.
The 32-year-old said: "I'm already getting the vibraphone out, these nice sort of twinkling, high, mellow sounds that makes the baby kick and stuff."
The guitarist's bandmates reckon parenthood is likely to influence their future lyrics.
Drummer Dominic Howard joked: "Maybe he's going to start writing lullabies.
"I'm sure it will affect him a great deal because everything affects you musically in your life.
"People you meet and music you hear, it all has influence or can do, on your artistic output and that is such a great massive thing to feel."
Muse won the international achievement prize at yesterday's (Thursday) Ivor Novello Awards.