Festivals urged to tackle legal highs by the government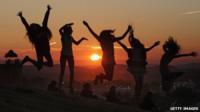 Music festival organisers are being urged to do more to tackle legal highs.
Baroness Browning, the government's minister for crime prevention, has written an open letter to the organisers of the UK's top events.
She's concerned about the demand for legal highs and wants more to be done to stop them being taken:
"While people selling these products may give the impression they are legal and safe, they are more than likely not legal, and are not safe."
Legal highs are chemical substances, some of which have effects more closely associated with stronger illegal drugs like cannabis, ecstasy and cocaine.
Mephedrone was previously a "legal high" but was banned as a Class B drug last year.
The minister also warned that substances like plant food and bath salts are often sold as legal highs, but could be harmful if taken.
Organisers say they now have zero tolerance policy on legal highs and will be searching festival-goers this summer for legal and illegal drugs.
At some festivals stalls selling legal highs are now banned.
Psychoactive substances
"Some of these substances are so novel anyone taking them is playing Russian roulette with their health," she added. "And if you are caught selling or buying them you could face arrest and prosecution.
"The festival season is one of our great summer traditions and we want people to enjoy it responsibly and without breaking the law.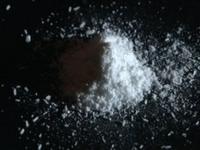 "We know organisers are alert to this worrying trend and I am inviting them once again to review the measures they have in place.
"We want to help ensure festivals are as safe an environment as possible to help protect the public, especially young people, from the potential harms and risks of all drugs."
The government says it will be working with police, trading standards and organisers at a number of festivals over the summer to help identify emerging new psychoactive substances.
It's part of what they're calling a new "forensic early warning system".
The government has also introduced proposals for a new 12-month temporary banning order for new psychoactive substances.
They say they want to protect the public while independent experts, the Advisory Council on the Misuse of Drugs (ACMD), assess any harm they pose.
Festival organisers of Leeds, Reading, Big Chill, Bestival, Latitude, V and T In The Park all say they have a blanket policy, that there are no legal highs allowed on site.
Glastonbury also said: "We take the issue of legal highs very seriously.
"We have passed on the contact details for the only trader we have on site out of more than 900 traders that trades in legal highs to the local police."
Charlotte Moutray, 20 and Adam Wheatley, 21
"We're going to festivals Sonisphere and Hub, this year. We just take cheap cider. Loads of ProPlus and loads of food.
"We've never used legal highs before. You do get people coming up to you at festivals saying, 'Do you want to buy anything?'
"It's like buying food at a festival, I'm always dubious. The festivals we've been to always search you. There are sniffer dogs and they do random spot checks."
Lauren Mundey 24, Jonni Hayman, 23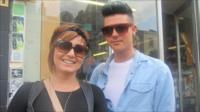 "We're going to Sonar and Lovebox. We drink at festivals and use legal highs. I know they're not allowed at the festivals.
"I don't want to give my secrets away but I put it down my bra. The girls carry it in because everyone else gets searched.
"If you drink all day you get really sleepy! We don't use legal highs very often. Just at festivals."