Big Weekend: Lady Gaga pays tribute to William and Kate
16 May 2011

From the section

Music
Lady Gaga has paid tribute to the Duke and Duchess of Cambridge by dedicating a cover of a jazz classic to them at BBC Radio 1's Big Weekend in Carlisle.
The US singer rewrote the words to Orange Coloured Sky, made famous by Nat King Cole, and said the track was for "Kate and Will".
She told the crowd: "I was wishing I was at the royal wedding."
Foo Fighters headlined the first night at Europe's biggest free ticketed event with 40,000 fans at Carlisle Airfield.
Watch all the performances from Carlisle at Radio 1's Big Weekend
'Killer' gig
In Lady Gaga's one-hour set she mixed new material, some of her biggest hits and two jazz trumpet interludes.
The 25-year-old New Yorker began her experimental performance by arriving on stage from a coffin wearing a black PVC prosthetic pregnant stomach.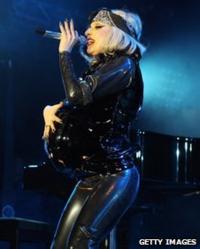 After playing opening numbers Born This Way, Bad Romance and Telephone, she spent much of her set sat at her piano.
It included a tearful rendition of new single The Edge Of Glory, which she explained was written about her grandfather.
After her jazz deviation she finished the show with Just Dance and Judas.
Later in the evening she tweeted about the gig describing it as "killer".
Speaking to Radio 1 DJ Scott Mills before going on stage, Lady Gaga said: "I'm going to change it up a bit and maybe do a jazz tune. I'm going to see how I feel.
"It's not the Monster Ball. I usually get a little more off the cuff when I do festival shows.
"I get really inspired by the audience depending on how I feel about the show. It's not completely planned out."
Varying reaction
Reactions to her set from festival-goers leaving the site were mixed.
Abigail Primrose-Richardson, 18, from Yorkshire said: "I didn't think she was that good compared to what I imagined.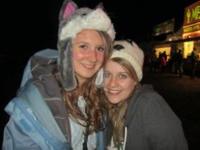 "She sang better than I thought she could, but I don't think her act was that good. It was a bit boring really.
Hayley Cowan, 21, from Carlisle who was there with her friend Rosie, said: "Gaga's such a good singer and you wouldn't think it.
"She remixed all her popular songs and did her own thing on the piano. She did the jazzy thing, which you don't normally hear from her."
Elsewhere day two of the festival saw main stage performances from the likes of My Chemical Romance, Taio Cruz and The Script.
The In New Music We Trust stage was headlined by New York rockers The Strokes.
On the first day of the festival (Saturday 14 May), 20,000 fans saw sets from Tinie Tempah, Black Eyed Peas and headliners Foo Fighters.
Highlights of Radio 1's Big Weekend are available all week on the BBC's red button with performances from Foo Fighters (Monday), Tinie Tempah (Tuesday), Jessie J (Wednesday), Noah & The Whale (Thursday) and Lady Gaga (Friday).
There are also highlights on BBC Three at 7pm tonight (Monday 16 May).