Saoirse Ronan admits she forgets about Oscar nomination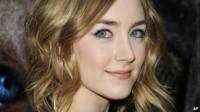 Saoirse Ronan says she often forgets that she received an Oscar nomination.
The 17-year-old, who's starring in new action movie Hanna, was up for best supporting actress in 2008 for her role in Atonement.
"The whole Oscar nomination thing doesn't really come into it that much."
"I forget about it all the time and only when people bring it up is when I remember that it happened. It's so amazing that it did," she told Newsbeat.
"It kind of is a bit of a title, when people have been nominated for something like that, you're known in that way and it's lovely, it really is."
The Irish actress makes her latest on-screen appearance alongside Cate Blanchett and Eric Bana in intelligent action thriller Hanna.
'Naive character'
She plays the part of a teenage assassin raised by her ex-CIA agent dad, who ends up being pursued by a ruthless operative (played by Blanchett).
Ronan started training several months before filming to make sure she was physically fit enough for the role, but she admits that Hanna's not a typical action movie.
She said: "It was something that required a lot of focus and commitment.
"Our character Hanna, she's actually quite naive and I feel like her character's portrayed in a very elegant sort of way.
"What I always really liked about her is she was never cool and she never fitted in and basically she's an alien who's been dropped into our planet earth and doesn't know how to behave."
School's out?
The soundtrack from the film comes from The Chemical Brothers and listening to their music during filming helped provide a bit of a boost for the cast.
"What I really like about their score is that they used sound effects from the film and incorporated them into the music that would accompany each piece," she said.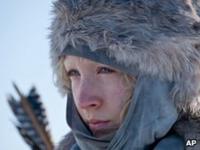 The actress went to primary school in Ireland but says after work commitments started building up she took a tutor on set with her instead.
Education is important to Ronan and although she can't really plan far ahead she says she's been thinking about colleges for the past three years.
"Learning is the most important thing, no mater how you do it, or where you do it, or who you do it with," she said.
Celeb mates
Ronan admits to having a real mixture of friends, some of whom she's known since she was little and others she's met through acting.
She said: "I don't have celebrity friends really. I'm friends with lots of people.
"I'm friends with kids from back home, some actors that I've worked with, a lot of crew members I've worked with. I became very close to a lot of the directors I've worked with."
As for what's next, Ronan says things are very much "just floating around in the air" although she is in talks to star in The Host, an upcoming film adaptation of the novel by Stephanie Meyer (who wrote the Twilight series).
She said: "It would be great if it worked out. People seem to be quite excited about it."
She has recently completed work on black comedy Violet and Daisy, which is also centred around the teen assassin theme and stars Alexis Bledel (The Sisterhood of the Traveling Pants) and James Gandolfini (The Sopranos).
Hanna is released in the UK on 6 May.