Ozzy Osbourne documentary film premieres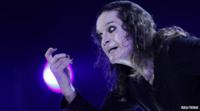 A documentary film about the life of Ozzy Osbourne made by his son Jack has received its premiere at New York's Tribeca festival (24 April).
Called God Bless Ozzy Osbourne the movie details the heavy metal icon's career, including his struggles with low self-esteem and drug use.
Jack Osbourne described the film as "warts and all" and "raw".
"People I don't think were expecting that especially since being made by his son," he added.
Ozzy Osbourne given legend award
Film makers spent two years following the 62-year-old rocker for the movie recorded throughout his last tour.
Sir Paul McCartney and rocker Tommy Lee make appearances in it.
Ozzy Osbourne formed heavy metal band Black Sabbath in Aston, Birmingham in the late 60s.
"It's done by his son, his son can ask him questions that nobody else can ask him. I think that it shows a lot of Ozzy that you just haven't seen before, it's very deep," said Ozzy Osbourne's wife Sharon.
A release date for the film in the UK has yet to be confirmed.