Porn 'affects the way men view sex'
21 April 2011

From the section

Health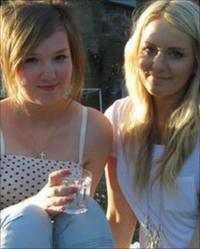 As part of a special report into the way young people view porn, Newsbeat spoke to teenagers Hannah and Sarah.
They believe consuming porn can shape the way guys view sex.
Hannah, 19, and Sarah, 18, both agree that many of their peers use porn.
Hannah said: "I had this boyfriend... everything he did in the bedroom could've been taken out of some hardcore porn video.
"Guys don't want to wear condoms and that's because in porn videos they don't."
Sarah agreed: "They just don't even think about protection."
Newsbeat teamed up with doctors from the Portman Clinic for the report, the first of its kind in the UK.
Seventy-one per cent of the women Newsbeat questioned think porn can have a harmful effect.
Both Hannah and Sarah agree that it's changed their friends' views on what is commonplace in the bedroom.
"I don't like the way porn has made guys believe that anal sex is acceptable," said Sarah.
'Everyone does it'
According to Newsbeat's report, one third of woman look at porn on the internet, compared to eight out of 10 men.
Hannah and Sarah agree that in their experience, porn is an every day fact.
Hannah said: "All the guys my age that I know watch it regularly. It's like a social thing. They just put it on and watch it together.
"If they're coming in to school or uni, then they always have something on their phone. If you go on the internet they have the videos you can download straight to your phone.
Added pressure
Sarah added: "If there was a new video going round they'd all be talking about it and sometimes they'd have it on their phones."
"They all used to come in and just boast about what they've been doing. I think that puts pressure on you as well, as a girlfriend you want to please them. You want them to be saying good things about you."
"And what guys think a good girlfriend is in bed is like whatever these porn girls are doing," said Hannah.
Sarah added: "You feel like you have to perform like they are."
But, these girls don't think all porn is bad. They, like half of all young women in this survey, think porn is fine in moderation.
Hannah said :"The boyfriend I'm with at the moment doesn't watch the hardcore stuff, he watches stuff that I can see how he's getting off on it, so it doesn't bother me.
Sarah added: "I don't know one guy who doesn't watch it and who doesn't have their favourite video that they always go back to."