Justin Bieber loses YouTube crown to Rebecca Black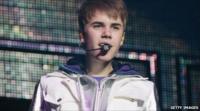 Justin Bieber has lost his King of YouTube crown to Rebecca Black.
The Canadian super star's YouTube channel regularly tops the monthly most viewed chart.
But the 17-year-old has been pushed into second place thanks to Rebecca's song Friday, according to new figures from Famecount.com.
Many critics have described her heavily auto-tuned track as the worst ever but it's helped her YouTube channel reach 112 million views.
Just over half a million more than Bieber's channel on the video sharing website.
But both performers are way ahead of the competition.
Lady Gaga is third most popular but with significantly lower figures than the top two.
The Born This Way star had 86 million monthly views, followed by Black Eyed Peas (4th) and Jennifer Lopez (5th) who are both on 78 million.
Widely Ridiculed
Despite the heavy criticism of her song Rebecca doesn't seem put off by all the criticism.
"Even for a person that doesn't like it, it's gonna be stuck in their head.
"That's the point of it."
The track is about a teenager getting ready for the weekend but the lyrics have been widely ridiculed.
In one part of the song, Rebecca sings: "Tomorrow is Saturday. And Sunday comes after…wards.
"I don't want this weekend to end."
Others have criticised the use of auto tune on Black's voice but Rebecca said the song was "catchy".
"When I first saw all these nasty comments I thought this is all my fault," she told US TV network ABC.
"[I thought] this was all because of me," she added, speaking on the Good Morning America show.
The song was produced by Los Angeles-based Ark Music Factory which describes itself as an independent record label.
On its website it says its main objective is to discover future number one artists and produce the next outstanding star.