Coldplay star Chris Martin plays gig in a pub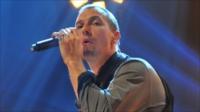 Chris Martin made a surprise appearance at a pub charity gig in London last night.
His mate Hot Fuzz actor, Simon Pegg, had put on a benefit night at the Boogaloo in Highgate, north London.
It was a wake for his friend John Parkhouse, who used to be a regular.
Chris performed a handful of songs and sounded in good sprits singing Coldplay's track Wedding Bells.
Simon Pegg played harmonica for a track. Other celebs in the crowd included Ant and Dec.
Heckler
At one point Chris Martin couldn't decide which Coldplay song to play next so asked the audience.
Someone from the crowd heckled back for him to play Wonderwall. He agreed to the request as long as the heckler came up as well.
The pub was the inspiration for 'The Winchester' in Simon Pegg's film Shaun of the Dead.
The actor is godfather to Chris Martin's daughter Apple with Gwyneth Paltrow.