Son writes off his dad's £275,000 supercar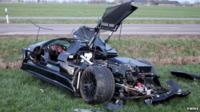 A 20-year-old has written off his dad's £275,000 Gumpert Apollo after taking it for a spin in Germany.
He lost control of the rear wheel drive supercar on a sharp bend near Brokdorf, just north of Hamburg.
After the crash the driver's door ended up 100ft (30m) away and the car was described as a "total loss".
The man was driving with a 19-year-old female passenger and both of them walked away from the accident with minor injuries.
Police are investigating whether he was speeding when he lost control of the car on the 50mph road.
The Gumpert Apollo has a top speed of 225mph (360kph) and goes from 0 to 60mph in less than three seconds.