Britney and Rihanna collaborate on S&M
12 April 2011

From the section

Music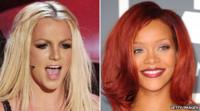 Britney Spears and Rihanna have collaborated on a remix of RiRi's track S&M.
After asking her followers on Twitter who they would like her to record with, Rihanna announced the pair had collaborated on 11 April.
She said "by popular demand" she would record with Spears "one of the biggest worldwide popstars".
Spears replied: "You're such a tease! I like it, like it. You think they're ready RiRi?"
The track sees the mega popstars share vocal duties on the track - the original track appears on Rihanna's album Loud released in 2010.
The reworked song has yet to have a release date.