Robert Sheehan to leave E4's Misfits after two series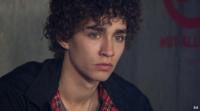 Robert Sheehan won't be returning for the third series of E4 series Misfits.
The 23-year-old Irish actor confirmed the news at this weekend's first Kapow! Comic Convention in London.
The show's executive producer, Petra Fried, said: "We are all sad to say goodbye to Robbie Sheehan. He has been brilliant as Nathan."
A one-off special is being filmed for the E4 website which will reveal how his character Nathan leaves the show ahead of the start of the new series.
The Bafta award-winning comedy/drama is about a group of teenagers on community service who discover they have superpowers after a freak storm.
Producers say that Nathan, who is immortal, takes a trip to Las Vegas which ends in total disaster.
It's also been revealed that a new character called Rudy will join the show, who will be introduced in the same short online film that will see the departure of Robert Sheehan's character.
Casting is underway for the role.
He will join Kelly (Lauren Socha), Curtis (Nathan Stewart-Jarrett), Alisha (Antonia Thomas) and Simon (Iwan Rheon) in the series, who will all have new powers.
Talking about the third series, Channel 4 drama's commissioning editor Robert Wulff-Cochrane said: "We're all very excited about the return for a third series, as well as kicking off with a groundbreaking online film.
"Howard Overman [Misfits creator and writer] has created some more brilliantly surprising and original storylines and fans can rest assured that series three will begin in a way no one else could possibly imagine."
The eight-part third series of Misfits will air later this year on E4.