Paris Hilton sued over missing jewellery from mansion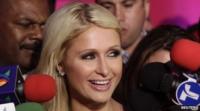 Paris Hilton is being sued by an insurance firm which claims jewellery she borrowed has never been returned.
The star says the gems, worth $60,000 (£37,000), were stolen from her home in 2008 and were not recovered.
Allianz Global is suing for breach of contract and negligence for leaving the jewellery out in her unlocked mansion.
A New York state lawsuit claims Manhattan jeweller Damiani made the loan on condition they were locked in a safe when she wasn't wearing them.
Los Angeles police say they eventually recovered the stolen goods and returned them to the socialite.
A representative for Paris Hilton denies that saying the gems were never returned by the LAPD after the break-in.
By then Allianz Global had already paid an insurance claim to the jewellers.
The German company says it has asked Paris Hilton to give the jewellery back but phone calls and emails have been ignored.
Five people still face robbery charges.