Police investigated over murder of The Notorious B.I.G.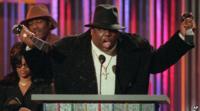 FBI agents spent nearly two years looking into whether LA police officers were involved in the death of The Notorious B.I.G. in 1997.
Hundreds of files have been released by America's Federal Bureau of Investigation into the rapper's murder.
They show the inquiry was closed in 2005 after officers decided there wasn't enough evidence to carry on.
Agents in LA, San Diego and New York were involved in trying to find witnesses to the shooting.
His murder has never been solved.
Rap battle
The newly released documents show that Notorious B.I.G., real name Christopher Wallace, was killed by rare armour-piercing ammunition.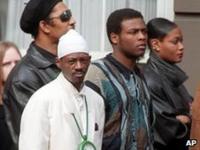 At the time of his death he was carrying marijuana, an asthma inhaler and three condoms.
The files also reveal he was also wearing size 48 Karl Kani jeans, size 13 Timberlands and a size 54 Bernini sweater.
The Notorious B.I.G., also known as Biggie Smalls, was murdered six months after rapper Tupac Shakur, who was shot dead in Las Vegas.
Tupac Shakur's murder has also never been solved and there has been much speculation over the years about the motives of the two killings.
The rivals helped start an East Coast/West Coast rap battle during the mid-1990s.