McFly bassist Dougie Poynter 'is back on form' on tour
6 April 2011

From the section

Music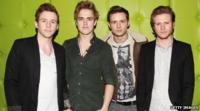 McFly say bassist Dougie Poynter is "back on top form" after spending a short spell in rehab.
The band are just finishing their first UK arena tour in two years with the final gig tonight (6 April) in Nottingham.
They were forced to reschedule three dates after Dougie Poynter took time away from the group with stress.
Lead singer Tom Fletcher said: "Dougie's good. He's great. We wouldn't be touring without him."
Dougie Poynter split up with girlfriend Frankie Sandford from The Saturdays in November with the band tweeting to say he'd been having a tough time.
But Tom Fletcher said he was now concentrating on touring.
"He's loving touring, we all are," he admitted. "He absolutely loves being on stage and we've got the world, Europe, south America [to come] but we're going to have to postpone the trip to Japan.
"The rest of the year [will be spent] touring but it's what we all wait for."
'Ambitious'
McFly took a break after their last arena tour in 2009 supporting fourth studio album Radio:Active.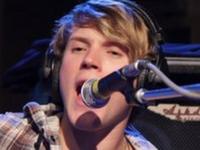 They say they were never worried that they might have played their last gig but admitted nothing was definite.
"You don't take it for granted," Tom Fletcher said. "You never know what's going to happen over the next few years.
"We're all very ambitious but we don't take it for granted. We're very lucky to have all these people come to see us play."
The band also released their fifth studio album Above The Noise last year with Party Girl and Shine a Light both making it into the top 10 of the singles chart.
New music
They say they've found it hard hitting the notes night after night on tour.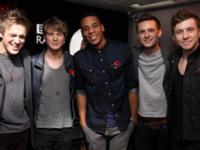 Danny Jones said: "We've got three of the highest songs we've ever had to sing on this tour.
"So by the end of the show my voice is strained and my head is popping.
"We're finding it hard but [we're] looking after ourselves and doing the old school things; home-made steamer and eating honey off the spoon."
The band also revealed when the tour ends, they'll be going back into the studio to record some new music
Tom Fletcher said: "I think we'll find the time towards the end of the year to write some new stuff.
"We do write all the time on tour though. There's no set time to write the album, we just write constantly.
"When it comes to writing an album, we just look at all the stuff and choose the best."