Eliza Doolittle wants Odd Future collaboration
5 April 2011

From the section

Music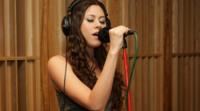 Eliza Doolittle has begun working on new material and has her eye on a collaboration with US rap collective Odd Future.
The London singer played a number of shows at last month's SXSW music festival in Austin, Texas, and began thinking about hooking up there.
"I would die for that, that would be amazing," said Eliza Doolittle.
"I don't know if it would ever happen. Two very different worlds colliding. I love it when that happens."
Fresh collaboration
She continued to heap praise on the breakthrough hip hop act from Los Angeles who she saw play live in Texas.
"Odd Future blew my mind. It's basically punk but hip hop," she said.
"I saw them play in a little pub in London about six months ago and then I knew they were going to be massive.
"I've been following them ever since. They remind me of Eminem but even more controversial."
Meanwhile, Eliza Doolittle has begun working on new material following the release of her self-titled debut album last year.
"I've already been in the studio a little bit," she said. "I don't know if those songs are going to go towards the second album.
"They'll probably be on an EP before the second record or a bonus track album.
"It's just to keep the momentum because I've still got to bring my first album to a lot of different countries."