Top Gear cleared by Ofcom over comments about Mexicans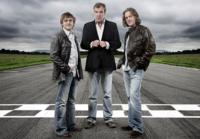 A Top Gear episode which caused controversy with jokes about Mexicans has been cleared by Ofcom.
The broadcasting watchdog received 157 complaints about the comments on the BBC Two show in February.
Richard Hammond, Jeremy Clarkson and James May branded Mexicans lazy and feckless with the BBC later apologising to the Mexican ambassador.
Ofcom said that Top Gear was well known for its "irreverent style and sometimes outspoken humour".
But it added that it "recognised that the comments made about Mexican people were based on negative national stereotypes and had the potential to be very offensive".
National stereotypes
In the episode, Richard Hammond joked that Mexican cars reflected national characteristics.
He said they were "just going to be lazy, feckless, flatulent oaf with a moustache, leaning against a fence asleep, looking at a cactus with a blanket with a hole in the middle on as a coat".
James May described Mexican food as "like sick with cheese on it".
Jeremy Clarkson predicted that they would not get any complaints about the show because "at the Mexican embassy, the ambassador is going to be sitting there with a remote control like this (snores). They won't complain, it's fine".
Ofcom added that viewers were likely to be aware that the show "frequently uses national stereotypes".
The organisation said "few, if any, nationalities had not at some point been the subject of the presenters' mockery".
"The majority of the audience would be familiar with the presenters' approach to mocking, playground-style humour, and would have considered that applying that approach to national stereotypes was in keeping with the programme's usual content, and the presenters' typical style," it said.
Ofcom added that most of the audience would have understood that the comments were made for "comic effect".
In 2008 Top Gear was criticised by the BBC Trust for showing Jeremy Clarkson and James May sipping gin and tonics at the wheel during a stunt.
Hundreds of viewers also complained that year after Clarkson made a joke about lorry drivers murdering prostitutes.