Kerry Katona 'relies on her management' to pay bills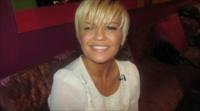 Kerry Katona says it has been "hard" relying on her management financially.
The star has been talking ahead of the start of her new reality TV show, Kerry Katona: The Next Chapter, which starts on ITV2 tonight.
In it she reveals that it is her management team that has bought her home in Surrey and paid for her daughters to attend school.
The 30-year-old was declared bankrupt back in 2008 and was treated for depression at The Priory.
She slurred her words during an interview with Phillip Schofield on ITV's This Morning but said afterwards that it was because of medication she was taking for bipolar disorder.
'Still changing'
Kerry Katona told Newsbeat: "I can't get into too much detail about the bankruptcy because of the legal reasons.
"But if it wasn't for my management team [I'd find it hard], they literally pay for everything.
"It's really hard how it works. You get a certain amount to live on.
"I can't go into too much detail about it but it is really hard being a single mum, getting no help from either father for financial help for schools.
"So I'm basically working my tiny little tushy off so I could put my kids in a good school."
In 2009 Katona was sacked as the face of supermarket Iceland after allegations appeared in a Sunday newspaper that she'd been taking drugs.
But the star, who appeared on this year's Dancing On Ice, says she has changed even since the time this series was filmed six months ago.
"Even watching that episode back which was like September. I think I've changed even now. I'm a lot calmer. Even my speech is still changing, because when I get excited, i talk really fast.
"I think I'm a better mum, I've calmed down a lot. But I'm still growing. I'm still changing. I'm still finding me."
Kerry Katona: The Next Chapter is on Wednesdays on ITV2 at 9pm