Inbetweeners film likely to be last outing for the show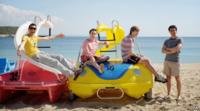 The stars of The Inbetweeners have told Newsbeat their forthcoming film feels like "the end of the show".
Simon Bird, who plays Will in the E4 show, said the cast didn't expect the show to continue after the film.
Meanwhile Joe Thomas, who plays Simon, said the actors had been "well behaved" while filming the movie in the Spanish resort of Magaluf.
The E4 stars were speaking at the Empire film awards in London on Monday, alongside co-star Blake Harrison.
Simon Bird said: "The movie is almost finished, we've got a bit left to do but 95% of the film is done. We're very happy with it."
Joe Thomas agreed: "We've seen some very early rough cuts and I think it's looking good."
The pair said that Magaluf had been "amazing" but Joe told Newsbeat they were too busy to enjoy themselves.
But he added: "If you want to get drunk and watch the Premier League, Magaluf is the place for you."
Simon Bird went on to reveal that the show was likely to end after the film.
"The writers have told us that this wraps everything up and it feels like an ending to us, but never say never I suppose," he said.