Lady Gaga first to have nine million Twitter followers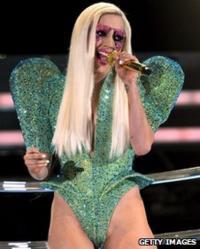 Lady Gaga is the first person to have nine million followers on Twitter.
The American singer, 24, became the most popular person on the social networking site last August overtaking Britney Spears when they both had just over 5.7 million followers.
She joined Twitter in 2008 with her first Tweet saying she was rehearsing for the Just Dance video.
Justin Bieber is the second most popular celebrity on the site, with just over 8.3 million followers.
Gaga's latest single, Born This Way, is at number one in the Billboard Hot 100 and made it to number three in the official UK singles chart.
Born This Way, the singer's second album, is released on 23 May.
The star also has 31 million fans on Facebook and her videos have had more than a billion views on YouTube.