Lindsay Lohan rejects jail deal over theft accusation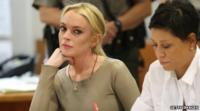 Lindsay Lohan could stand trial over claims she stole a necklace from a jewellery shop in Los Angeles.
The actress has rejected a deal which could have seen her sent to prison for six months if she pleaded guilty.
The 24-year-old is accused of stealing a $2,500 (£1,540) necklace from a shop in Venice, Los Angeles, on 22 January.
In a statement, her attorney Shawn Holley said: "Ms Lohan has maintained her innocence from the moment this case was filed and she has never wavered."
It continued: "Though many advised her to follow the safe route by taking 'the deal,' the truth is, Ms Lohan is innocent, she has a strong defence and we are confident that a jury will listen to the evidence fairly and acquit her."
Stand trial
Prosecutors want the actress, who's starred in films like Mean Girls and TV shows such as Ugly Betty, to be sent to jail.
She'll next appear in court on 22 April for a preliminary hearing when a new judge will decide whether there's enough evidence for her to stand trial.
The star was on probation for a drink-drive case dating from 2007 when a jewellery store told police that she'd taken a necklace without permission.
If the judge rules that Lindsay Lohan should stand trial, the actress could immediately be sentenced for violating her probation from that previous case and sent to jail for the fourth time.
She was arrested twice in 2007 and, as well as being charged with drink-driving, was charged for drug possession.
Another judge ordered her to undergo three months of treatment at the Betty Ford rehab centre last October.
While there she was accused of assaulting a member of staff, prosecutors say that case remains under investigation.