Inflation rise hits young mum on weekly food shop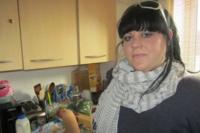 Inflation, the figure that shows if the cost of living is going up or not, has risen to 4.4% in the 12 months to February.
The rise is thought to be because of higher food and fuel costs.
Inflation has been rising faster than expected for the past 15 months.
Newsbeat spoke to Laura McMillan, a young mother from Cranleigh in Surrey, she says her weekly shop has doubled in price in a year.
Inflation: What it is and how it can affect you
She says despite the extra money going out, she's actually ending up with less food than she used to.
Laura McMillan, mother of three
"I used to be able to overflow the trolley and know that you weren't going to panic when you got to the till.
"But now, you get halfway full with your trolley and then you panic because you don't realise how much it's going to cost you.
"We live down the reduced section - every shop I go into, I know where it is and it's the first place you go.
"The choc-ices, you get eight for the same price, whereas the old box that I've just pulled out of the freezer you could get 10, and that was only last week.
"Mince, you used to be able to get a kilogram, but now it's 900 grams. And it's still the same price.
'Growing my own'
"Chicken is another one. It was £6 last week for the same weight and now it's £6.50.
"Cereal, smaller boxes, same price.
"Fuel's gone up as well so the kids don't get the days out.
"It's back to basics. You can't buy brand names all the time. Everything is back to basics.
"It's a fine line because you want to feed your kids healthy things but you're struggling to afford it.
"I'm looking to get an allotment, growing my own and doing it that way. It's a lot more hard work.
"In the summer we grow strawberries, tomatoes and anything we can in the hanging baskets and on the window sills. The seeds cost nothing.
"So it's going to have to be more of that. More growing my own."