X Factor: Def Jam's LA Reid confirmed as first US judge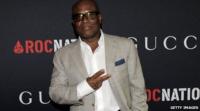 Island Def Jam's LA Reid is leaving the label to become a judge on the US version of The X Factor.
The 54-year-old music mogul has helped the likes of Mariah Carey, Usher, Rihanna, Kanye West and Jay-Z to multi-platinum sales success.
Auditions for US X Factor are expected to start on 27 March, with the show due to air in the autumn.
Reid is the first person to be named as a judge on the show with Cheryl Cole also rumoured to be in the running.
In a statement Island Def Jam confirmed the news.
Weeks of rumours
"Antonio 'LA' Reid has chosen to step down from his position as Chairman and CEO of Island Def Jam in order to participate in the upcoming US premiere of the X Factor," the statement said.
"We certainly wish him all the best with his new career choice and thank him for his contributions over the last several years."
The American X Factor organisers made no comment except to say "decisions are still being made on the panel".
Reid's appointment comes after weeks of rumours in the British press suggesting Cheryl Cole could be made a judge.
In a message announcing his departure to staff LA Reid said: "I have always thrived on growth and the next great challenge, and I look forward with much enthusiasm to what the future holds."
"I am extremely proud of our beautiful roster and all we have accomplished in my seven years with IDJ (Island Def Jam)."
Elsewhere on Newsbeat:
Kelly Brook pregnant with girl
Dance act Faithless to split up