Chris Moyles breaks Radio 1 record for Comic Relief
Chris Moyles has broken the record for Radio 1's longest ever show.
The record was broken at 1930 GMT on Thursday as Moyles and on-air partner Dave Vitty, also known as "Comedy Dave", passed the 37-hour mark.
They are now aiming to set a new Guinness world record for a team DJ show by staying on air for 51.5 hours.
If the pair are successful, they will beat the existing mark at 0830 GMT on Friday, having started their show early on Wednesday morning.
So far, Radio 1 listeners have donated more than £1m to their Comic Relief effort.
A host of celebrities have dropped in to lend their support, including Ricky Gervais, Richard Madeley, X Factor runner-up Olly Murs, Davina McCall, rapper Chipmunk, Lily Allen and Jimmy Carr.
Buttock 'massage'
The duo, broadcasting alongside Radio 1's regular DJs, are allowed five minutes break each hour and have been taking the occasional shower to stay refreshed.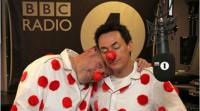 Highlights on Thursday included Chris and Dave getting a rather painful buttock massage from a physio, and DJ Greg James stripping down to encourage more donations.
Earlier, Moyles also pretended to nod off and accidentally turn the CD player off while Arctic Monkeys song Brianstorm was playing.
The previous Radio 1 record of 37 hours was set by Simon Mayo, again for Comic Relief, in 1999.
The record-breaking show is also being filmed and broadcast live on the Radio 1 website and via the red button on digital TV.