Dance act Faithless to split up after a 15-year career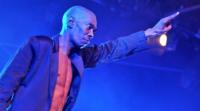 Faithless have split up after 15 years together, saying their current tour is a goodbye and thank you to fans.
In a statement on their website singer Maxi Jazz said it was "time to close the book and return to the library" and they knew it was time to stop.
The three-piece will be best remembered for singles like God Is A DJ, We Come 1 and Insomnia, a top three hit in 1996.
The group, which comprises Jazz, Sister Bliss and Rollo, released their sixth and final album The Dance last year.
They headlined a number of dance festivals and made memorable appearances at Glastonbury and Radio 1's Big Weekend in Bangor last May.
Continuing his statement, Maxi Jazz added: "We've had, with you, the most unbelievable, epic and moving experience."
He said that their career had been "joyful, exhilarating and empowering" and that the group "never thought an affair could last this long.
"Quite naturally people grow, change and leave the things of youth behind them.
"If I devoted the rest of my life to the task, I could NEVER thank you enough. I have memories that will still be with me in my next life."
Elsewhere on Newsbeat:
Prodigy gig heads to UK cinemas