Rapper Nate Dogg dies at 41, Snoop Dogg says on Twitter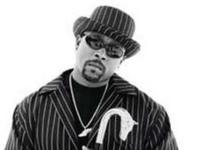 Rapper Nate Dogg has died at the age of 41, his family has announced.
The Californian artist, real name Nathaniel D Hale, is best known for his collaboration with Warren G on 1994 track Regulate.
The cause of his death is not yet known although he had recently suffered from health problems, including two strokes, one in 2007 and one in 2008.
Artists have paid tribute to Nate Dogg, including rap stars Snoop Dogg, 50 Cent and Ludacris.
The artist, who was a friend of his and collaborated on various tracks, wrote on Twitter: "We lost a true legend n hip hop n rnb. One of my best friends n a brother to me since 1986.
"I miss u cuzz I am so sad but so happy I got to grow up wit u and I will c u again n heaven."
50 Cent, who wrote 21 Questions with Nate Dogg, said: "GOD BLESS HIM R.I.P he meant a lot to west coast hiphop. I've always been a fan of it."
Rapper Ludacris, who also collaborated with the him on several occasions, tweeted to say: "There is a certain void in hip hop's heart that can never be filled. Glad we got to make history together."
His most recent album Nate Dogg, his third studio record, was released in 2008.