Biffy Clyro confirmed to play Ibiza and Mallorca Rocks
14 March 2011

From the section

Music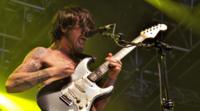 Biffy Clyro are among a host of artists announced to play this summer's Ibiza and Mallorca Rocks.
The band are due to play in Magaluf on 23 August and San Antonio on 24 August.
Also playing at the two Balearic hotels are The Wombats, The Vaccines, Fatboy Slim, Tinie Tempah, Dizzee Rascal, Chase & Status and Friendly Fires.
Plan B opens the season of gigs on 31 May in Magaluf with concerts taking place every Tuesday night in Mallorca and Wednesday nights in Ibiza.
Speaking to Newsbeat Example said: "It's a pretty magical place, Ibiza. Last year I ended up going 8 times. As soon as you get on the areoplane there always seems to be a buzz."
Radio 1 DJ Zane Lowe will perform before The Vaccines on 14 & 15 June and will act as "music director" for the summer series.
He said: "I DJ'ed at the first ever Ibiza Rocks event and have been a supporter ever since, so it's great to make it official.
"It's exciting, ambitious and totally in tune. The energy is inexplicable and it's drawn me back year on year.
"Playing the opening of Mallorca Rocks last year was one of my best gigs to date and I'm delighted to be asked to be a bigger part of the events and the programming this year."
The full line-up is as follows:
Plan B - 31 May (Mallorca) 1 June (Ibiza)
The Wombats/Brother - 7 June (Mallorca) 8 June (Ibiza)
The Vaccines/Zane Lowe - 14 June (Mallorca) 15 June (Ibiza)
Fatboy Slim/Totally Enormous Extinct Dinosaurs - 22 June (Mallorca) 23 June (Ibiza)
Friendly Fires - 28 June (Mallorca) 29 June (Ibiza)
Tinie Tempah - 26 July (Mallorca) 27 July (Ibiza)
Dizzee Rascal - 29 July (Mallorca) 30 July (Ibiza)
Chase & Status/Labrinth - 2 August (Mallorca) 3 August (Ibiza)
Example/Sub Focus - 9 August (Mallorca) 10 August (Ibiza)
Biffy Clyro - 23 August (Mallorca) 24 August (Ibiza)
Magnetic Man/Katy B - 30 August (Mallorca) 31 August (Ibiza)
Madness - 13 September (Mallorca) 14 September (Ibiza)
Closing party - 20 September