Katie Price lodges divorce papers after Alex Reid split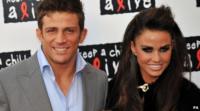 Katie Price has taken the first steps to divorcing husband Alex Reid, by lodging a petition with a court.
The couple, who split up in January, married in February last year in Las Vegas shortly after cagefighter Reid won Celebrity Big Brother.
A spokesman for Katie Price confirmed that a petition was filed yesterday (10 March).
After Alex Reid responds to it, it will be dealt with by a judge, eventually leading to a decree nisi.
Katie Price, 32, was previously married to singer Peter Andre with whom she has two children.
A statement released by the model in January said: "Alex and I have had a number of difficulties over the past few months.
"I accept that these were in part caused by my marrying too quickly - we all make mistakes and this was one. However, Alex changed from the man I fell in love with."
She added that "some of his behaviour became difficult" for her to understand and "caused issues".